Newsletter Vol. 3 Issue 1
Healthcare & Biological Sciences Research Association
info@eurasiaresearch.org
Dear HBSRA Members,
Thank you for your interest and support in our organization. We are happy to present the newsletter for our Association. Here are some of the glimpses of our current and upcoming endeavors.
Conferences Held
HBSRA has successfully organized following International conferences in the period of December 2017 – March 2018:
23rd-24th December 2017 at Flora Grand Hotel, Near Al Rigga Metro Station, Deira, Dubai, United Arab Emirates
30th-31st December 2017 at Asian Institute of Technology (AIT), Conference Center, Bangkok, Thailand.
21st-22nd February 2018 at Flora Grand Hotel, Near Al Rigga Metro Station, Deira, Dubai, United Arab Emirates 
The main aim of this conference was:
        To discuss latest challenges/researches in the field of healthcare and life sciences
         Generating academic and professional relationships
         Boosting morale and confidence of researchers on an international platform
         Networking among the participants
         Providing a holistic experience of academic tourism
Our worthy Keynote speakers open up the conference enlightening participants with their speech.
Here is our List of keynote speakers who participated in our conference.
Keynote Speaker of International Conference held in Dubai, UAE, 2017
Mira Shenouda
University Honors College, University of Pittsburgh, Pittsburgh, Pennsylvania, United States of America
Keynote Speaker of  Eurasia International Conference held at Bangkok, Thailand, 2017
Kottawa Gamage Anoja Priyadarshani Attanayake
Senior Lecturer attached to University of Ruhuna, Sri Lanka
Keynote Speaker of  Eurasia International Conference held at Bangkok, Thailand, 2017
Hajime Hirao
Department of Biology and Chemistry, City University of Hong Kong, Hong Kong, China
Keynote Speaker of  Eurasia International Conference held at  Dubai, United Arab Emirates, 2018
Roberto San Jose
Software and Modelling Group, Computer Science School, Technical, University of Madrid (UPM), Madrid, Spain
In order to Promote Young Researchers, Eurasia International conferences, Provides Young Research Scholarship in the form of full Registration fee waiver to participate in such events.
In each, Eurasia International conference, best paper award is given to best researchers. In HBSRA, Best paper award is given to the participants with the best scholarly paper submitted and presented at the conference.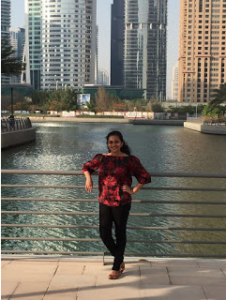 Best Paper of Eurasia International Conference held in Dubai, December 2017
(Kavya Prasad of Department Of Bioinformatics, Karunya Institute Of Technology And Sciences, Coimbatore Tamil Nadu India)
 Paper Title: Activation Of Antitumor Drug Defense And DNA Repair Mechanism By Expression Of Alkbh1 And Ido1 In Histone
Methyl Transferase Dot1L Inhibitor Treated Breast Cancer Cell Line
Abstract:  Breast cancer is the most common cancer among women worldwide and is the second most common cause of death among cancer. Though many drugs are being developed, the statistics of mortality of breast cancer question their effectiveness. Hence, we have attempted to study the microarray data of dose response to one such drug EPZ004777a histone methyltransferase DOT1L inhibitor.  We have also investigated the differential gene expression involved in cancer-related pathways and studied their functions. Our study revealed that the up-regulated genes such as SMAD7 assist cancer progression and the expression of SMAD7 activate the excess production of TGF (tumor growth factor), which leads to cancer cell proliferation. IDO1 is also an up-regulated gene that activates antitumor drug defense mechanism and it makes the drug ineffective when administered. The up-regulated gene ALKBH1 is also responsible for adaptive response mechanism of DNA alkylation damage repair and damage reversal by oxidative demethylation. Thus, the damage being inflicted on the cancer cells by the drug is repaired by this mechanism, and the drug is unable to destroy the cancer cells. These findings can prove useful for analyzing the effect of drugs better at a gene level and act as a basis to develop better drugs with lesser associated effects in future.
Key Words: DOT1L, Histone Methyl Transferase, Cancer Proliferation, DNA Repair, Drug Resistance. 
Best Paper of Eurasia International Conference held in Bangkok, Thailand, 2017
 (Volker Schulte  of School of Business Institute of Management, University of Applied Sciences Northwestern Switzerland FHNW, Windisch Switzerland)


Paper Title: Employer Branding And Employability Survey On Labeling Healthy Workplaces In Europe
Abstract: Health is the most important requirement for workability and employability in aging societies with a growing lack of a qualified workforce. In this context, employers try to attract their companies through specific employer branding and through Workplace Health Promotion Labels. This survey gives an overview of different types of labels for sustainable employability and occupational health.
In European countries, presenteeism and absenteeism are increasing due to psycho-social disorders. Europe faces structural and long-term changes in working conditions and working environment. Working life changed dramatically within three decades. In general, acceleration of the pace of life, work intensification, constant time pressure, multitasking and life-long learning is essential to maintain job security. In order to resist those pressures, employers start to improve their image by fostering health at the workplace as well. Therefore, workplace health promotion programmes have become very popular in the last two decades.
Key Words: Workplace Health Promotion, Employability, Employer Branding, Labelling
Best Paper of Eurasia International Conference held in Bangkok, December 2017
Arezoo Mehrpoya of  Shohaday Ashayr Hospital, Lorestan University Of Medical Sciences, Khorramabad-Iran)

Paper Title: Patient Experiences Of Living With Coronary Stent
Abstract:  Introduction
:  Cardiovascular disease is the most important disorders in the developed world and the main cause of death and disability in all countries considered. Using coronary stent in cardiovascular patients, as an effective treatment, has greatly reduced the requirement for cardiac surgery. The study was carried out to explore lived experiences of patients living with coronary stents.
Methods: The qualitative phenomenological study was done to explore lived experiences of the patient whit coronary stent. The participants (11patient) were selected purposively. Data were collected through individual semi-structured in-depth interviews. The interviews were analyzed according to Colaizzi's seven-stage method. Authenticity is demonstrated using Lincoln and Guba four-criteria.
Findings: the mean age of participant was 49.6±11.  The researcher obtained as many as 577 codes and having classified, they were decreased to 217 codes. After analysis on data collected about the cardiovascular patients living with a stent in their vessels, some basic issues such as concerns about future, social anxiety, supporting, body deformation, lifestyle changes, were obtained. Fundamental themes were anxiety (concern), feel of need and changes.
Conclusion: the result showed an important step to fixing the problems is reducing concerns, increase the level of awareness and satisfy the needs (physical and mental). For improving patient's health, the rehab and care programs may modify patients' problems.
Keywords: Phenomenology, Coronary stent, Qualitative research, Heart disease
Best Paper of Eurasia International Conference held in Dubai, UAE, 2018
(Roberto San Jose of  Software and Modelling Group, Computer Science School, Technical University of Madrid (UPM), Madrid, Spain)
 Paper Title: Short Term Health Impact Assessment Of Global Climate Scenarios On Urban Scale
Abstract:  A computational dynamical downscaling modeling system has been implemented to assess the short-term health effects of two global climate projections, IPCC 4.5 (stabilization emission scenario) and 8.5 (little effort to reduce emissions) with 50 meters of spatial resolution over Milan for years 2030 and 2050 and London 2030, 2050 and 2100. The modeling system connects several types of atmospheric models as spatial resolution increases, starting with a global climate model (CESM), then we use a mesoscale model for meteorology and chemistry (WRF/Chem 50 to 1 km resolution) and finally the MICROSYS model (50 meters), which is a computational fluid dynamics model. When calculating the proportion of deaths related to climate change, as well as the change in the number of hospital admissions, we use epidemiological studies which analyze and quantify the relationship between mortality or morbidity with air pollution or temperature increases. Modeled air quality concentrations at microscopic scale were compared with measurements of air quality stations, taking 2011 as the reference year; evaluation of modeling results determined that the system was suitable for the study objective. The results show that in the case of Milan the worst year for the effects of climate change on the health of citizens is 2050 for both scenarios but in 8.5 the highest increases are expected, especially in the area south-east of the city that can reach 6.9%. The effect of temperature on health becomes 4 times more potent than exposure to concentrations of contaminants. In the case of London, the effects on the health of citizens of global climate change are marked by temperature increases, while decreases in mortality are expected from exposure to concentrations. The major health effects would occur in 2100 in the global climate scenario 8.5 with increases of up to 1.35% in most of the area of Kensington and Chelsea, except the areas of the river and the lakes of Hyde Park.
Keywords: Health impact, climate change, air pollution, dynamical downscaling
Best Paper of GRDS International Conference held in Dubai, UAE, 2018
(Sudarshan Surendran of Department Of Anatomy, Melaka Manipal Medical College (Manipal Campus), Manipal Academy of Higher Education, Manipal., Karnataka. , India)
 Paper Title: Duplication of Femoral Artery: A Rare Developmental Anomaly


Abstract: Femoral artery is the continuation of the external iliac artery at the level of the inguinal ligament, located in the front of the thigh and then adductor hiatus to continue as the popliteal artery. A common variation of the femoral artery is hypoplasia or aplasia, presenting with a persistent sciatic artery. But, the duplication of the femoral artery is reported by many to be uncommon. In the present case, during a routine dissection class for undergraduate medical students, the femoral artery was seen to be duplicated in the femoral triangle in the cadaver of a 65-year-old male. In the femoral triangle, the femoral artery divided into two arteries, running together along the entire course in the thigh, until they joined to form one single artery, just before entering the adductor canal. In a clinical setup, a clinician uses an incision at the upper part of the thigh to access the femoral artery and a vein from another part of the leg is used as the graft to bypass a block in the artery. Another minimally invasive procedure is the percutaneous transluminal angioplasty, where a clinician inserts a catheter into the femoral artery to reach the blocked part of the artery and may use a stent, which prevents its narrowing again. In lower limb ischemia, detailed knowledge of the vasculature of the thigh would prove to be of vital importance. In thromboembolectomy, a procedure performed under local anesthesia for cases with acute limb ischemia, a minor variation in the normal anatomy could be managed, but major variations could lead to unexpected complications, which could be avoided with prior detailed knowledge of such possible variations in the normal anatomy of the vasculature of the region. Such variations form part of important knowledge for clinicians, surgeons, and radiologists dealing with cases involving the vasculature of a thigh.
Keywords: Femoral artery, Duplication of artery, Lower Limb Artery, Development of Arteries